FREMO X700
The smallest 650W LiFePO4
Portable Power Station
EV-Grade LiFePO4; 1500+ Charge Cycles;
Detachable Magnetic Flashlight
The lithium iron phosphate battery cell has high stability
Compared with the ternary lithium battery, the lithium iron phosphate battery has a cycle life of more than 5 times, which is the best choice for energy storage products.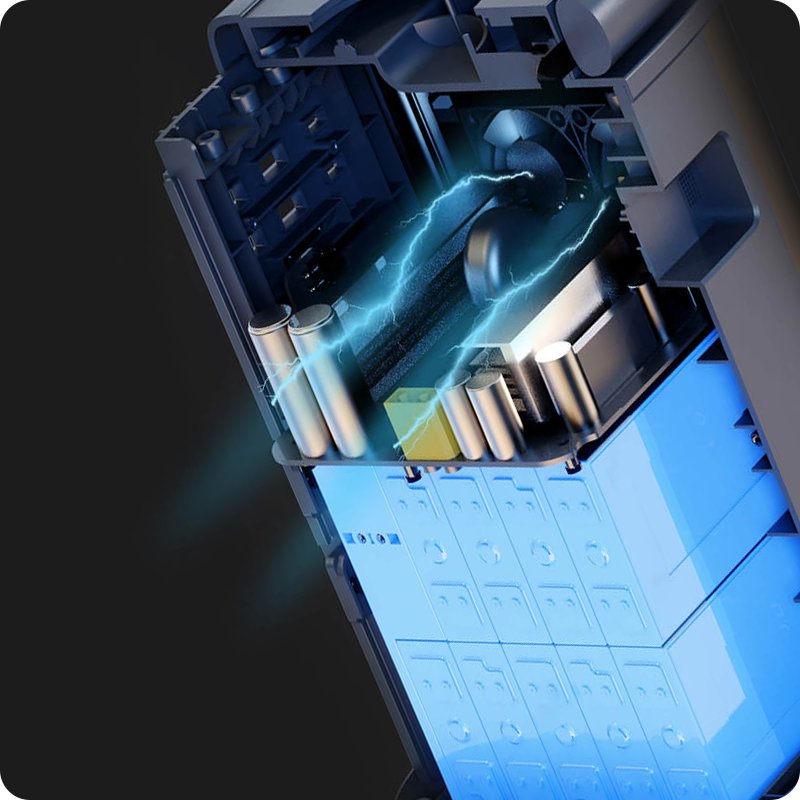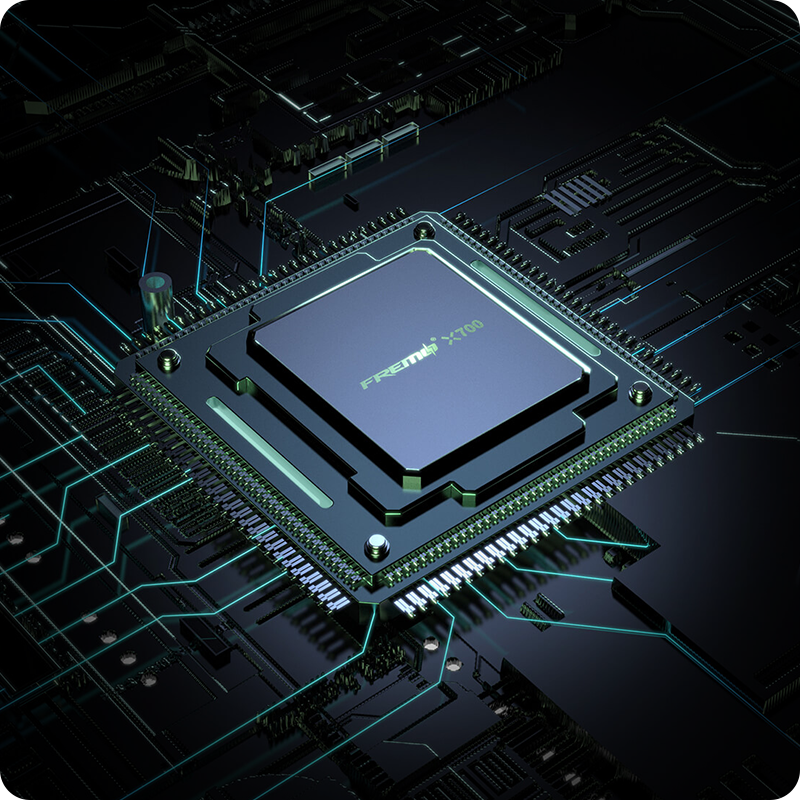 Ensure the safety of the battery and optimal performance of the whole unit.
Intuitive user interface
We used the 260,000-color smartwatch screen to design an intuitive user interface. It has a lot of dynamic effects to enhance the user experience like never before. The four main buttons surround the screen with X-shaped colored LED indicators that interact dynamically with your actions, making it very easy to operate and tech-savvy.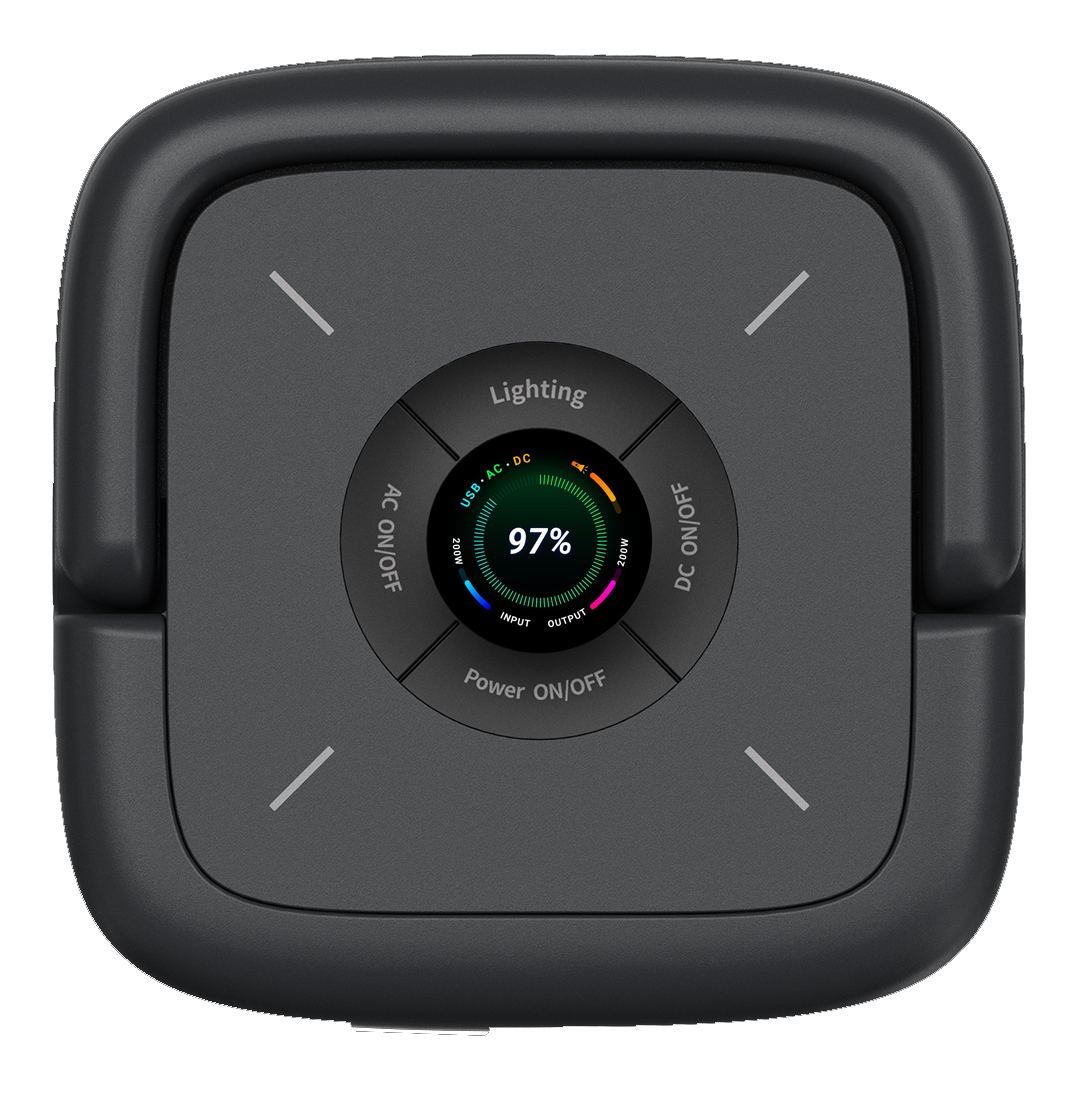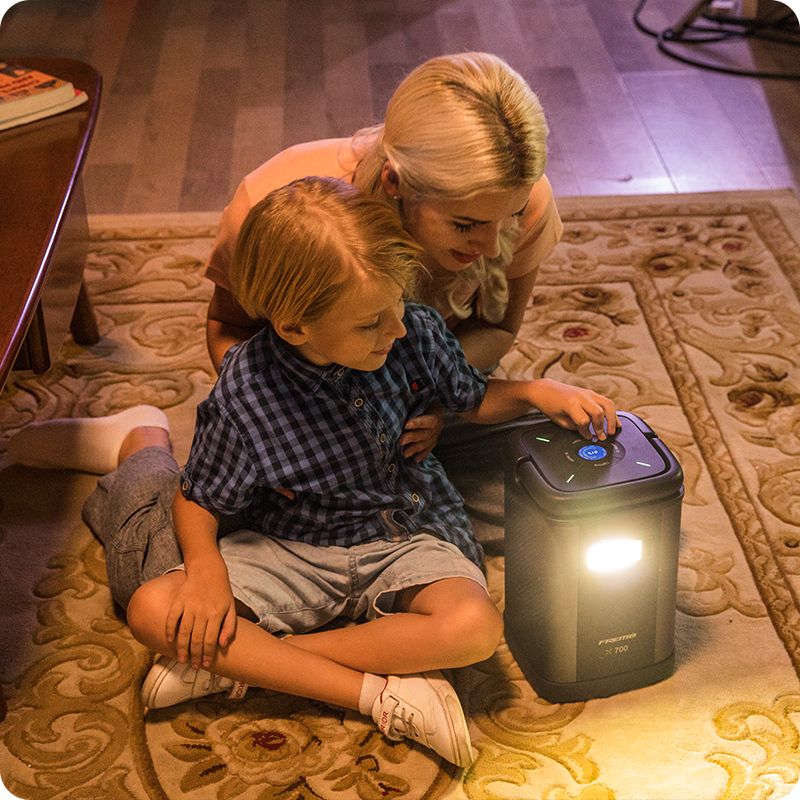 Easy to Operate
To facilitate the operation, we took a people centric approach and move the operation panel from the side to the top.
Compact but powerful
The interior of the X700 adopts an innovative stacking structure, which makes the space utilization more reasonable and minimizes the occupied space. Designed to be smaller than A4 paper, the performance of the X700 is not compromised in the slightest. It can charge most electronic devices, such as various digital devices, car refrigerators, stereos, lighting equipment, and even outdoor electric ovens, coffee machines, DJ booths, etc. Surely, it can also be used for personal medical equipment such as respirators in emergency situations.
Compact but powerful
With an innovative stacking structure inside, X700 has a more reasonable use of the space and minimizes the amount of space that it occupies. Designed to be smaller than an A4 paper, the performance of X700 is not compromised at all. It can charge most electrical devices, such as a variety of digital equipment, car refrigerator, stereos, lighting equipment, even outdoor electric oven, coffee machine, DJ station and so on. Definitely, it can also be used for personal medical equipment such as respirators in emergencies.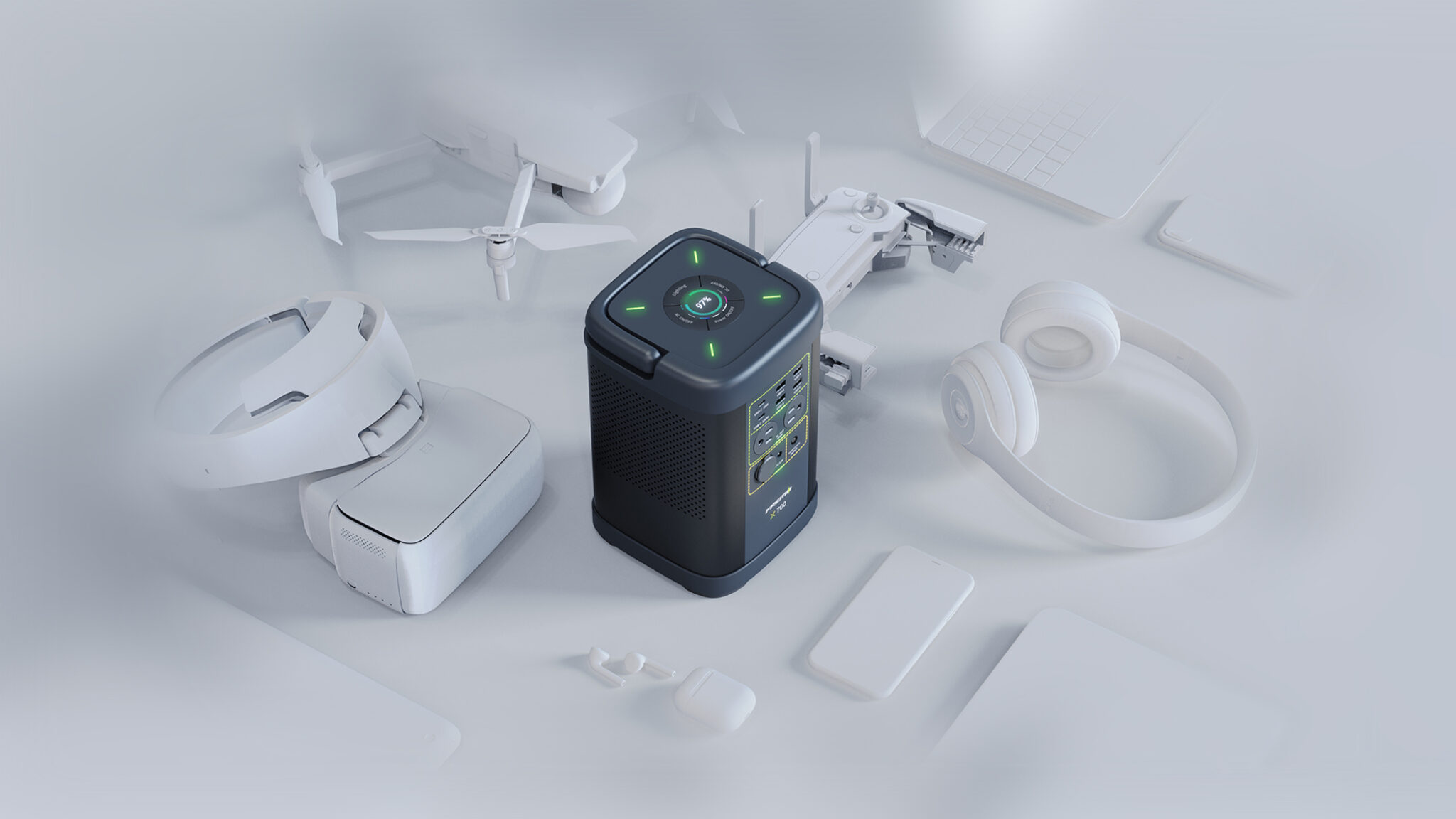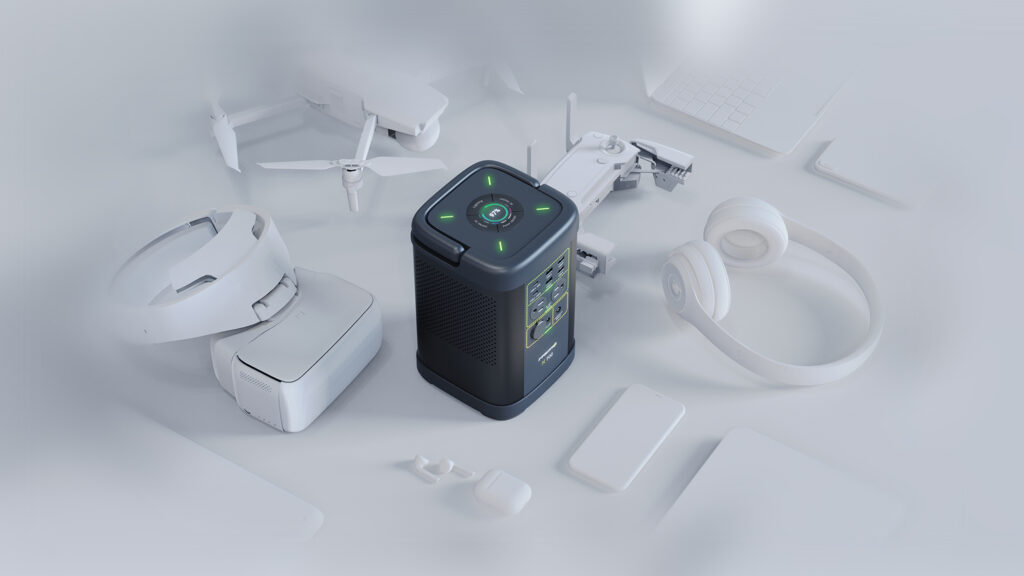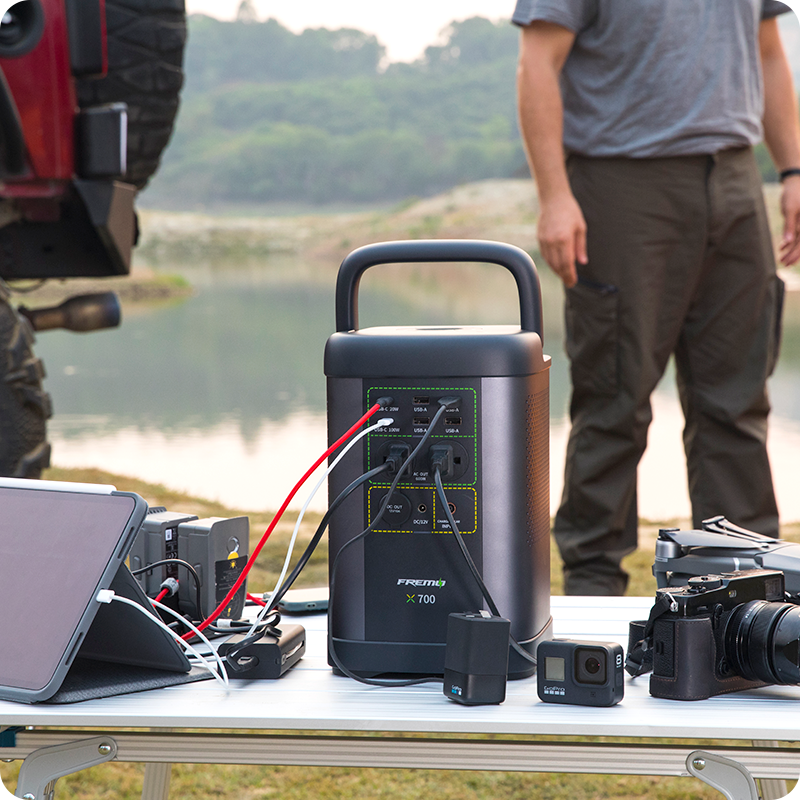 Power 10 devices simultaneously
With its ultra-compact design, X700 can charge 10 devices at the same time and there is a quick charge port in addition to the regular output ports.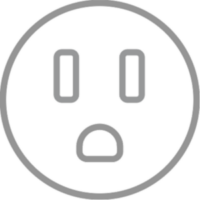 Through the standard adapter, it can be charged from any wall outlet to achieve 80% battery capacity in 3 hours.

Support 2 solar panels in parallel, and the maximum solar power input can reach 180W.

You can charge it through the car charger during the journey. The maximum charging power is 120W, and this charging power will be reduced when your car battery voltage is too low which could ensure your journey safety.
Optional Accessories
X700 comes with a Hyper 100 Solar Panel and Insulated Bag. It is all at your option to choose from.
Testing and certification
AC Output(×2)
650W(Surge 1200W)total, 120VAC(60Hz)Full Sine Wave
USB-A Output(×4)
5V DC, two ports share 2.5A, 25W Max total
USB-C Output 1
5V DC, 9V DC, 12V DC, 15V DC, 20V DC, 5A, 100W Max
USB-C Output 2
5V DC 3A, 9V DC 2.22A, 20W Max
Car Power Output(×1)
120W, 12V DC, 10A Max
DC5521 Output(×1)
36W, 12V DC, 3A Max, share 120W with car charger output
Car Charger
12V DC, 10A Max
Cell Chemistry
LFP(lithium iron phosphate battery)
Shelf Life
1 Year (after fully charged)
Cycle Life
1500 cycles to 80% capacity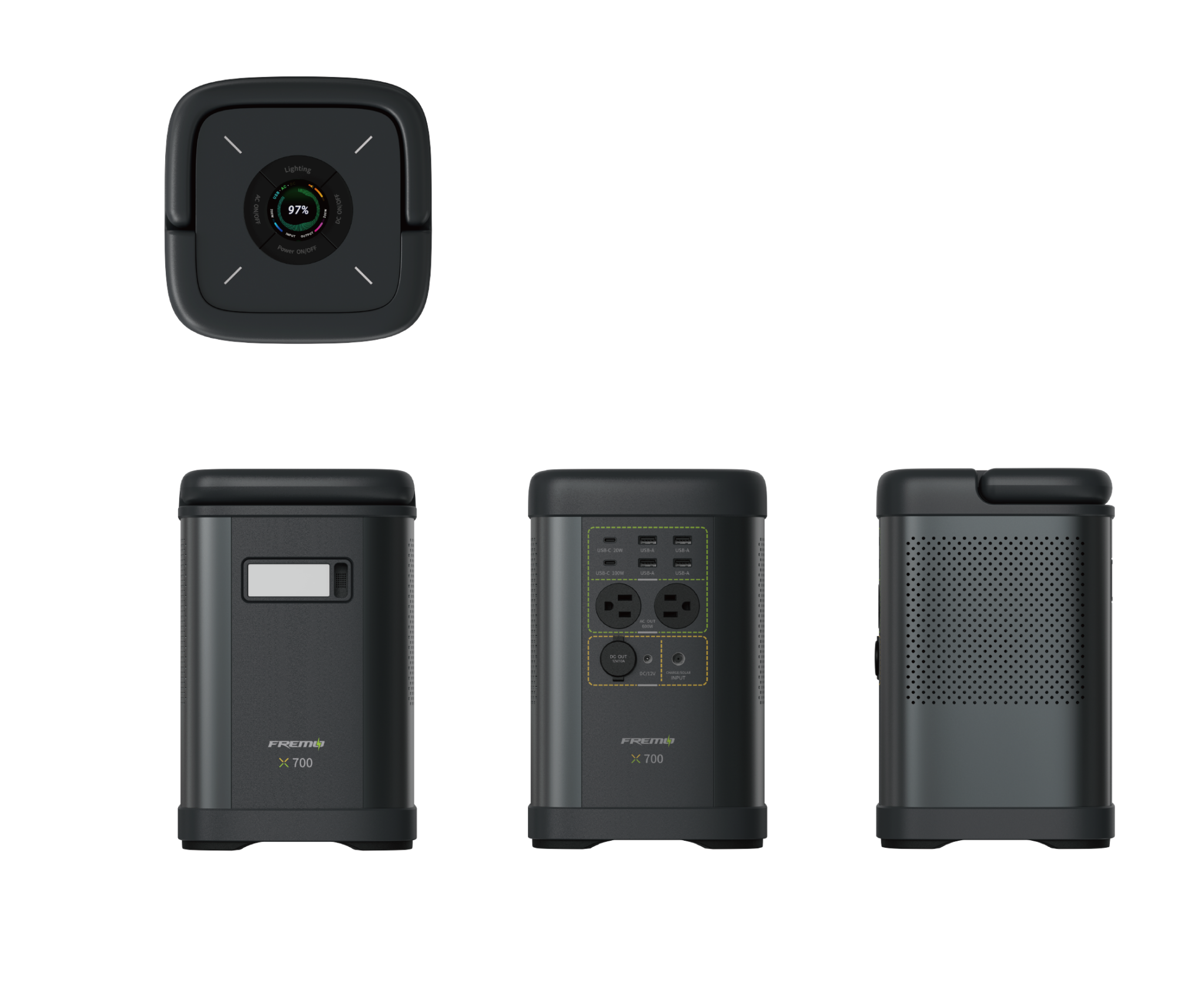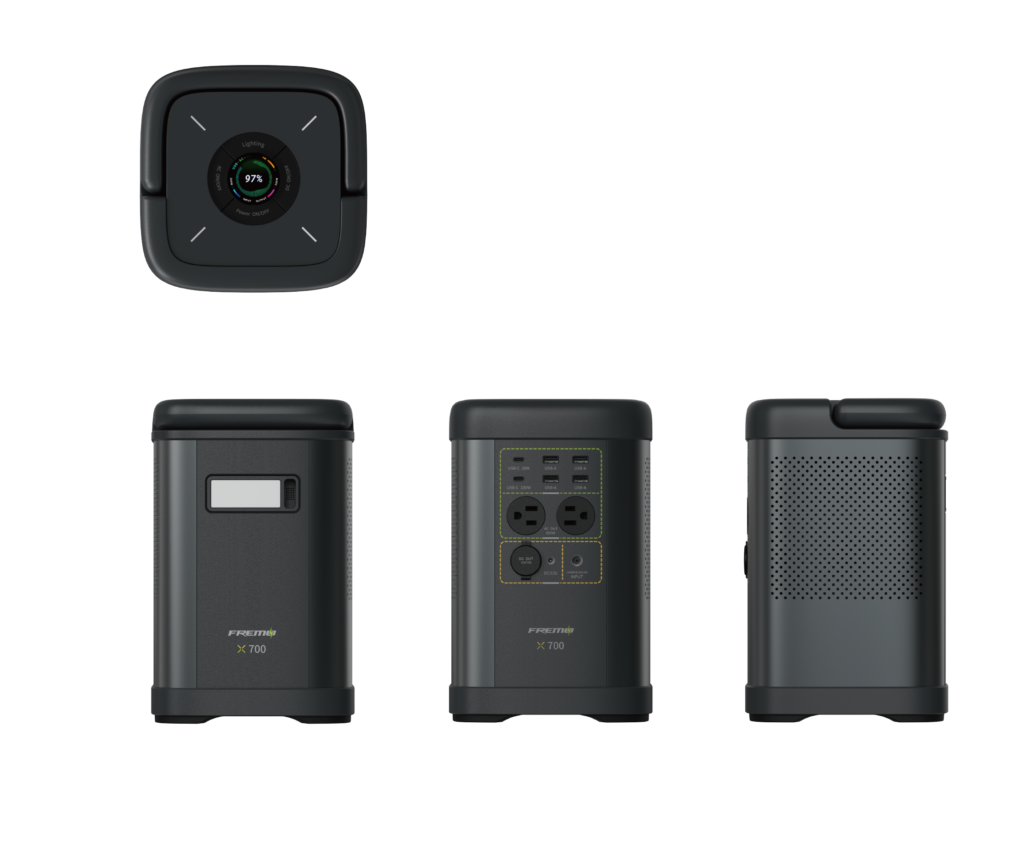 Use a piece of dry cloth to wipe your X700's surface. If you need to clean more thoroughly, apply a small amount of the detergent which is recommended for cleaning your cellphone's screen and computer display on the cloth and wipe your X700 surface. Do not put it in any liquid.
Store your Fremo X700 in a dry and cool place. If you intend to store it for a longtime, keep the battery level between 50% and 60% and switch it off before putting it in storage. Recharge it every 6 months to extend the
battery life.
Please use Fremo X700 within its operating temperature range. Your X700 is not waterproof. DO NOT immerse it in water. We DO NOT assume any responsibilities for the damage to your X700 due to improper operation.

Get Upadates, Discounts, Special Offers And Big Prlzes!